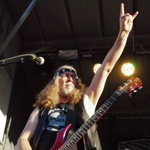 The tour of a lifetime (for me) just ended in Chicago (a glorious show at the Alehorn of Power Festival) a few weeks back. I have been reminiscing through my memory of all the events that took place in 2013 for Manilla Road and have found it difficult to even recall all the fantastic moments because there are so many of them. First of all getting to spend time with so many of our fans around the world this last year has been phenomenal. What an honor it has been to have been greeted with such enthusiasm everywhere we have traveled. Believe me when I say that it is truly our fans that keep Manilla Road alive and kicking. We absolutely could not have achieved what we have without you all and your undying support of the music.
One of the most impressive things (and there have been many this year) that I saw happen in 2013 is the amount of support and awareness that is growing in the U.S. metal scene. We have been received in the States better this last year than any other. The Deathfest in Maryland was incredible. To see so many supporters of classic metal raise the horns to the sky here in America was one of the most thought provoking things that I have seen happen. From Texas to Canada North America has finally taken the leap of faith into the realm of epic metal. I know there were several of us in the first place but it seems that epic and classic metal are really back with a fervor in the Americas and I am so proud to be alive to see it.
I most likely should have written this a couple of weeks ago but I decided to wait until my birthday to do it for some reason. Yes, today I am 56 years old in this life. One of the most important things (to me of course) that I discovered over the last 56 years is that the Universe and all within it are constantly and ever changing. Change is inevitable. And since the world and universe we live in is constantly in a state of change we should not let ourselves be fooled into thinking that our philosophy and ideas should be dormant and in a state of stasis. What I'm trying to say is that as our technology and knowledge and understanding of the truths of the earth and the heavens expand so should our thinking process expand. We should expect change. We are intelligent enough as a race of people to know that the history of the earth and the human race changes and is slightly re-written every time we dig up new discoveries out of the sands. Therefore our philosophy about the beginnings of our race and civilizations and religions should also be advancing and changing along with the understanding of new knowledge. It is vitally important that we continue to be open minded and re-write our own philosophy as the facts reveal themselves. We should not get caught up in religious lunacy that keeps us believing things that we know scientifically are not true. And then on the other side of that double edged sword is that we should still honor our ancestors even though some of their beliefs were fantastic explanations of the unknown. We are smart enough to know the difference between honoring our forefathers and blindly following a path that was created by those of lesser education and knowledge. Create your own path to the light. You know yourself better than anyone else and all choices should be left to you and not made by those who plagiarized their religion from earlier myths and legends. Don't let people that died ages ago make your decisions for you today. Take the leap of faith yourself and make your choices based upon your own understanding of the knowledge at hand and by all means trust in yourself. All of our magik together equals god in my books.
Manilla Road is the perfect example that if you work hard enough and long enough that you can achieve your goals no matter how far away they seem. This year saw the achievement of many of the goals that I had set forth for Manilla Road to accomplish during its career. Finally signed by a label that actually has really good distribution across Europe (Golden Core / ZYX Records) with enough clout and money to really promote Manilla Road like it should be. Hell, I just saw a German TV advertisement for Crystal Logic. May I say that I'm not sure I really ever expected to see something like that. I almost feel like we have gone mainstream now…Ha Ha. No, really it is good to see that we can finally achieve such things without sacrificing our dignity as metal heads because I don't feel like the music has changed to the industry but the industry has changed and finally accepted Manilla Road as a force to be reckoned with.
Vinyl is on the way back in and that is something I thought should have happened a long time ago. I like the clarity of digital technology but for some reason the LP and all of its trimmings just seems to be more palatable to me. High Roller Records and Manilla Road have had a great relationship and it continues even now. An honest label that does what they say they will. And what is extremely important to me is that they are totally about high quality when it comes to their product. So another crowning achievement for the Road is the continued success and relationship that we have with High Roller in Europe.
I also cannot forget Shadow Kingdom Records here in the States. We have been working together for some time now and the Kingdom has been a great help in promoting MR in North America along with Clawhammer Promotions which is also located in Kansas (now that's what I'm talking about). We most likely would have never done the Maryland Deathfest without the help of Shadow Kingdom and they have done a great job along with Clawhammer to help us gain more notoriety in North America.
I got to meet and hang out with many of my metal idols this year and to also play on more stages across the world than I ever have in one year before. We managed to play some of the largest festivals in Europe and North America this year to utterly amazing audiences. We also managed to play in several countries that we had never set foot in before. Every show we did this year was a true success and for that I must thank our Tour Manager Richard Cathey, our Eruopean Agent Mike Moeller of Breakout Productions and all of the promoters and their crews. But most of all, once again, it was the fans that made it all happen due to the undying support and love for the music and the band. I just cannot thank all of you enough for a great year of gigging.
It was a very successful year for me with studio work as well. This year saw the release of Mysterium which has done wonders for the Road in revealing the band to an ever growing audience. It has also seen the birth and recording of our next album. Yes we are finished recording the next Manilla Road album and I am now starting the editing process and we will most likely have the entire project finished and reading to release by the first part of 2014. And then there was Neudi helping dig up lots of lost tapes in the archives at my house and studio. Pretty much all of this unreleased and rare recordings will be released as time goes on. Most likely as bonus tracks on reissues and maybe a surprise or two up the road in the near future. And speaking of the studio (Midgard Sound Labs) I must also send a big thank you and shout out to Derek (DR. DOOM) Brubaker for all of his expertise in the studio engineering for me and putting up with Shark's ego and weirdness. If not for this man the recordings could not be going on at the breakneck pace that we are at right now. His ideas and help are so important and nobody really ever sees this guy because we keep him locked up in the studio along with E.C.'s pet critter. And when it comes to this next album that we are finishing up on right now I have to say with all my heart that this very well may be the best Manilla Road album that I have ever written. I am totally in love with the project and it feels so much like best effort that I have ever made with my music. I can't wait to have it finished and out there so that I can hear what all of you think about it.
And then there are my band mates. Man it has been a glorious year touring with these guys. We have had so much fun and great times together as a band on the Mysterium Tour. Not saying that it was all playing in the flowers on a sunny day but all the good times really outweigh the difficult ones. I have had the honor of touring with some of the best metal musicians over the years but this year has been really special and most of that was due to the guys in the band always giving it 100%. Thanks to Bryan, Josh and Neudi for being a part of this incredible year and this band. You guys most certainly rock.
We also have the Manilla Road dot net website…haha…that is manillaroad.net. It has been a rather bumpy road for the website but we are working out all the kinks and it appears that all is under control now and going well. It is always tuff dividing our time up into all the things that we are trying to accomplish and thanks, once again, to DR. DOOM (who created manillaroad.net) we have a platform to speak out ourselves and flood the internet with propaganda from my ancient and feeble brain. You should check out the website if you have not in the past and even if you have you should go back because now there are new specials on merchandise going on for a yearend type of sale. If you missed out on getting a tour shirt while we were on the road you can still most likely get one at manillaroad.net. It was very difficult trying to keep up with the website and the merchandise sales and shipping while we were doing so much touring but now we have more people that are set in place to take care of things while we are away on the road and so the whole process should be running a lot smoother now and in the future.
I guess that is enough dribble and babble for now. Once again I wish to thank you all for your support of Manilla Road. For making this maybe the best year that Manilla Road has ever had as a band. For being there for us years back when the chips were down and for being there for us now helping to achieve our dreams. It has been more than an honor meeting you all on tour and to have you honoring us by singing along with us at the shows and raising the horns to the air. Thanks for helping make the magik. Thanks for keeping the circle intact. Thanks for being there for us. Thanks for the ride lady.
May the Lords of Light Be With You
Up The Hammers & Down The Nails
Blessed Be
Hail Odin & Thor
Mark The Shark Shelton
It has been a really crazy year for the Road so far and there is much to tell about what has happened in the last couple of months so let's get started for this might be a bit of read.
We had some really bad storms in Kansas this year and usually we make it through this time of the year without many problems but this year was a bit different. I had a huge 100 plus year old Elm tree in my back yard that was uprooted during one of the many storms we had in Wichita. It destroyed my neighbor's garage and damaged mine as well as ripping out the power lines from my house and studio causing an electrical fire on the back of the house. It did not stop storming for 3 weeks and took a whole month to get the damage repaired and power restored back to the house and the studio.
All of this set us back a bit on our intended recording schedule and after we got back up and running again we only had about 2 weeks before we had to be back out on the road again heading to Canada to play in the Wings of Metal festival in Montreal. It was a great time and a killer audience and I would like to thank everyone that helped make this event a memorable one for us. The Canadians are turning out to be as crazy as the European Manilla Road fans. It was a lot of fun.
We then ventured back to Wichita, Kansas for 2 weeks of working frantically in the studio until we took off again for touring in Germany and Belgium. We just finished doing 2 shows in Germany in Russelsheim and Ludwigsburg. Both shows were really fun and the audiences were great. Then we ended up at the Ages of Metal festival in Belgium (which was sold out) and had a really crazy time playing there. Many thanks to all the promoters, crews and fans for making all of these shows really cool. It was another great tour experience for all of us in the Road. Having the stage invaded by the front row of the audience in Belgium during the song Necropolis was totally intense and wild. Great times in Europe once again.
We were supposed to be doing a show in Dubai in the United Arab Emirates but unfortunately due to financial difficulties that the promoters were having our part of that show was canceled. So now we are hanging out in Germany with our drummer making plans for the next years worth of touring. I am now doing my best to get caught up on my emails and facebook stuff and also working on business for the Road that I have not paid enough attention too since the storms hit the studio.
We are only 4 bass tracks away from being finished with the recording of the next Manilla Road album. I am hoping to have it released in the first quarter of 2014. We will most likely be mixing the project in the same studio that we did Mysterium in with Steve Falke again. Since Mysterium turned out so well I see no need to change studios or engineers and at this point in time I would have to say that the sound of the recordings is even better than that of Mysterium. We just keep learning as we go along and doing our best to make everything sound better than before.
Still planning on doing another Hellwell album and we have 4 songs already recorded for the next album but it will still be some time before that project will be finished due to working on the next Manilla Road album. I have had a lot of people ask when the next Hellwell album will be out but please understand that Manilla Road is and always will be my first priority.
It has been a really great year for Manilla Road so far (except for the small setback of the Kansas weather) and I wish to extend my thanks for all the support that has come from our fans, the journalists, radio stations and promoters that have all made this possible. Manilla Road has truly turned into a bit of a phenomena and a dream come true for me and my band mates. But still none of this would have been possible without the support of our ever growing fan base. I always dreamed of Manilla Road being this well known in the metal world but at the same time it was highly unlikely that this was going to ever happen to a small unknown Kansas band like ourselves. I have all of you to thank for this and I hope that we can live up to your expectations in the future. So I guess that is about it for now and of course I want to wish you all the very best in your lives and say to all of you that dreams can come true if you strive hard enough and keep believing in yourself. I'm not saying it's an easy road but it is possible.
To one and all May the Lords of Light Be With You and Blessed Be.
Up The Hammers & Down The Nails
Shark
Hail to all ye Brethren of the Hammer,
I am sitting in my hotel in Copenhagen right now still reveling in the memory of what has taken place over the last several weeks. I am so proud of my band mates and our tour manager for making this leg of our first official world tour such a great time and success. We just came from France where we played at the Hellfest festival just two nights back. Just before that we did a crazy cool show in Itzehoe Germany that was fantastic also. You know it just does not matter to me if we play in front of 200, 2,000 or 20,000 people. If the audience is there ready to rock with Manilla Road then I am happy. And so far everywhere we have been it has been like that. Great audiences and fans and great times playing shows of the likes that were just dreams for me back in the day. I just have to keep thanking all of you for making this all possible.
First the show in Itzehoe Germany. A small venue but totally packed to the hilt with metal heads and man they were ready to ride the thunder. So that is what we did. We provided them all with the thunder of Manilla Road. It may have been only 200 or 250 people at the show but they were mighty and very excited to be rocking out with the Road. These smaller shows are still as important to me as the big ones and I just love the fact that they are on a bit more personal scale. Really easy to feel the energy of the audience when they are right there in your face. It was a really fun night and the opening bands were way cool also. I can still hear the high screams of Agrim Doom Hammer's singing. Man he can hit those high notes. They came out with the peddle to the metal and gave a great show. Also Die Void, who played next, came out and kicked some serious ass with their super cool style of spacy hippie metal. I really don't know how else to explain them except this way haha. The night before Josh and I went to a club show of a band that was headed up by one of the techs that worked our show in Itzehoe. His name is Ollie…I most likely have spelled his name wrong so sorry mate. The name of the band was Fire Up I believe and they were really cool. Not really a metal band but a cover band doing a full range of different styles of music. But man they meant business and were really professional and put on a great entertaining show that I really enjoyed. The highlight of that show for me was when they finished one of their sets with Time Warp from the Rocky Horror Picture Show. And they did it perfectly with all the correct speaking parts in it. And since they had a really cool female vocalist with them as well it made it perfect. Never heard anyone do that song live before and do it justice but Fire Up did. So our time in Germany was great because the audience there just really blew us away and I felt like we delivered a really good show there. The local newspaper thought so also because the headline in the paper the next day was Manilla Road raises the roof. Good times.
Then it was on to France and the mighty Hellfest festival. I never got an official headcount for the festival but I know for sure that we played on Saturday and it was definitely the largest crowd that day. I heard that the count was around 110,000 in attendance. There were so many great bands playing at this festival that it was amazing. The artists area was really cool and it made it easy to hang out with other bands and meet up with old touring friends and meet some new ones also. We had the opportunity to hang out for a bit with the likes of Wolf Hoffmann and all the Accept guys. I talked to Billy Gibbons of ZZ Top for a while and was amazed that after all these years he sort of remembered me from when I first met him in 1980. Maybe he was just being nice also but hell I don't care because he is still totally cool and I still idolize him. I got to meet Biff Byford of Saxon in Sweden but managed to catch their whole show at Hellfest and man I have to tell you they still have what it takes. Bryan and Josh got to hang out with the lead singer of Krokus who came to our dressing room evidently remembering Manilla Road and the fact that we opened for them back in 1982. We all met up with the guys from Down and Phil was so cool to us telling me that he was so proud that Manilla Road was still around kicking ass and keeping it old school. Doing breakfast with Accept, lunch with Billy Gibbons (in his pajamas haha) and then joking around that evening with Phil Anselmo…well all I can say to that is Wow! Then it came time to put on the magik axe (the Warlock of course) and hit the stage at Hellfest. Man the crew was a dream to work with but I must say that all the show crews that we have worked with on this tour have been really good, cool and helpful to work with. A really great bunch of professionals out there behind the scenes making this happen for everyone. My hat is off to all of you guys and gals. You know they say that everything gets better with time and that seems to be the truth when it comes to Manilla Road. Every show we have done seems to just get better and better and the one we just did at Hellfest, I think, is the best show that Manilla Road has ever done. It was a great stage and the sound was perfect. The audience was huge and I actually could not see where the audience ended that night because there were so many out there. The light show was cool and by the gods the audience was fantastic. And believe it or not I don't think I screwed up any of my French when talking to the audience. It was an amazing night and an utterly magnificent show for Manilla Road. So all in all it has been a fantastic tour so far and I can't wait to get back on the road when we go to Canada and back to Europe again to finish what we have started.
Let it be known that we have new Mysterium shirts for sale on the website (manillaroad.net) and they look really cool front and back both in full color. We leave tomorrow to head back home to the states and I am eager to get back to the studio and keep working on the new Hellwell and Manilla Road projects that are brewing in Midgard Sound Labs. Also really looking forward to seeing my children again. That is the thing that does suck about being on tour is being away from your loved ones but then again it also makes coming home that much better because when you are out here doing this sort of thing sometimes you just don't want it to stop. Once again thanks to all of you Manilla Roadsters for making this possible for us. We can't do it without you.
Up The Hammers & Down The Nails
Mark The Shark Shelton
Manilla Road / Hellwell