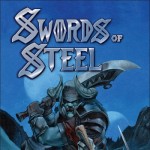 Hail to all ye Brethren of the Hammer,
Here I am with another Shark report from the depths of Midgard Sound Labs. First of all I would like to point out that our website manillaroad.net has some new merchandise to check out. We now have Blessed Curse shirts available and for you readers and hardcore Manilla Road fans there is a bit of a surprise. The story "The Riddle Master", by E.C. Hellwell is now available in the book Swords of Steel published by DMR Publishing. This is the story that inspired me to write the song The Riddle Master. So if you are interested in this story you can purchase the book at our website. This book is a collection of short stories all penned by metal musicians so it is quite a unique book and well worth the read.
My acoustic project Obsidian Dreams is finished now and will be going to press very soon. The cover design and booklet stuff has just been finished and all is being delivered to the label so it should not be long now.
Work is coming along nicely on the 2nd Hellwell album and it looks like we are still on course for a 2015 release of this project as well. There will be a bit of a surprise with this release that I think all will totally appreciate and I am really looking forward to the final outcome of this material. So far I think it will be a great album and it seems that with every part added it just gets better and better.
Tour possibilities for Manilla Road are being worked on and it appears we might be looking at going back out on the road later this year but for right now I have been spending most of my time working in the studio. There might even being some surprise recordings or projects coming out of all this time spent in the studio. I will keep everyone posted as time goes by and things progress.
I also would like to let you all know that we have been posting new videos and music from The Blessed Curse album on our youtube channel so please go and check those out especially if you have not heard it yet. You can get a taste for it and then buy it ha ha. I should wear a sign that says Starving Metal Musician and stand on a street corner.
Thanks to all that have and still do support Manilla Road. We are deeply indebted to all of you for your undying faith in Epic Metal and Manilla Road. May the light shine on all of thee.
Now everyone go to our website and buy some stuff so I can pay my parking tickets.
Up The Hammers & Down The Nails
Blessed Be
Shark
Hail to all ye Brethren of the Hammer,
Shark here with another update about Manilla Road goings on and website happenings. First of all I'm sure most of you know that our new album The Blessed Curse / After The Muse has been released on CD. I am told that the LP release date will be April 2nd 2015. So that is not that far off now. This delay has been due to the rise in demand for LPs again and the shortage of pressing plants that actually press albums anymore. Good to see the LP making a bit of a comeback. Anyway it seems most of the reviews of The Blessed Curse so far are really great. Thanks to all of you who have bought it and have provided us with positive feedback. It really is a proud moment for Manilla Road with this release. This new album can be purchased right here at this website on our merchandise page. We also have the Golden Core / Zyx releases of Crystal Logic, Metal and Invasion up for grabs at manillaroad.net also. Might even be some other merchandise that you have not seen as well so you might want to check out the merchandise tab.
Just got back a few weeks ago from the Up The Hammers Festival in Athens Greece where we were graced with the presence of Mr. Randy Thrasher Foxe joining the crew for a bit on stage thrashing the drums like the old days. We had a great time and the people that were in attendance were fantastic. I am always so honored when going to Greece and it is just an amazing experience every time. A huge thank you to all involved and to all the fans especially for supporting the event and making it a truly incredible time for all of us. As usual I miss Greece already and I have not been home that long. There are a lot of places I have been that do that to me ha ha.
Still working on the next Hellwell album but there has been a lot of progress on it since we finally finished working on The Blessed Curse. All the songs are written and we have most of the parts recorded also except for the drums. Jonny Thumper Benson should be flying in to do drums in about a month or so. So it looks like we will have the 2nd Hellwell album done in time to release it yet this year.
I also have an acoustic solo project called Obsidian Dreams that I have signed to Zyx and I will be mastering the project in the next week or so. Expect this out this year also and for that matter much sooner than that of the Hellwell release.
And then I guess the really interesting news for the moment is that we have (after years of searching) finally found the lost demo tape that was titled Underground from 1979. This was the very first studio recording of Manilla Road and included 3 songs. A total of 27 minutes that track list is Far Side of the Sun, Manilla Road and Herman Hill. The lineup of musicians on this demo is Scott Park on Bass Guitar, Myles Sype on Drums and myself on Guitar and Vocals. Now I reserve judgment on how this thing sounds because I have not listened to it yet and would not have even mentioned it's finding until I had listened to it but Hellroadie already posted a video of the findings on facething. So I will be transferring the tape to digital format under the best of conditions and of course analyzing the quality of the tape itself before we even play it. We have a very fine studio here in Wichita that has an expert engineer that has worked at restoring most of our old catalog many years ago and we still do much work with this guy so the best of care will be taken with this ancient reel of tape. But I must say that from the fist look of things it was stored very well and is in pristine shape. So I am expecting to be able to use the tape and get a good transfer from it without having to bake the tape. You really don't want to go through the baking process unless you absolutely have too because once you have the tape baked you can only play it once or twice before the fidelity of the tape goes to shit. So if the emulsion is not flaking off the tape then we will transfer it without going through the baking process and then put the damn thing in a vault where it will never see the light of day again ha ha. It is really amazing that we have found this thing. I had actually only hoped to find even a cassette of the demo but this is the best possible thing that could have happened. I hope the tape is still in good shape and that we get a good digital run on it so that we can make it available to the public in the near future.
Well that is all for now. I mighty thanks to all who support the Road. We cannot continue on without your faith. Up The Hammers & Down The Nails
Mark The Shark Shelton
Manilla Road / Hellwell
Hail all ye Brethren of the Hammer,
Shark here with a bunch of news about finishing up our 2 year long Mysterium world tour and also a bunch of news about the new album and other stuff. So fasten your seat belts and let's hit the road.
My last Shark Report was when we finished up our first two legs of the 2014 part of our Mysterium World Tour. We had a little time off but rapidly got back on the road again for the last two legs of our 2014 wanderings. First it was off to Europe again to headline one of the days of the Romanian Thrash Metal Festival in Bucharest. This was a great event run by really cool people and it was a blast. I was surprised with the packed out audience and did not realize that MR was that well known in Romania. Then it was onto the first Manilla Road Festival in Dittigheim, Germany. This was a packed house also and the bands and audience were fantastic. The highlight for me, besides getting to play live for an always great German audience, was a band called Attic. Then onto London England to headline one of the days of the Live Evil Festival which was also sold out. Another great audience and fun times for all. We then drove from London to Glasgow, Scotland and did a show with a killer band called Firebrand Super Rock. If you are into female fronted bands that have really talented musicians then this band is for you. They really blew me away live. This was in a small club The Audio and it was not a sell out but the fans that were there really raised the roof and it was a really fun show. Unfortunately I was really sick during this show and the one in London but as they say the show must go on. It was just a bad respiratory cold and I got over it fast enough. Then we drove back to London and caught a plane to the lavish island of Malta to headline one of the days of the Malta Doom Festival. When we were first driving through Malta after getting off the plane it seemed like I was in a James Bond movie. The whole island looks cool with fortresses and remnants of the Knights Templar's and much more. Our hotel overlooked the Mediterranean Sea and the food was great. The hospitality that was shown us was incredible and the festival was really great with another fantastic audience in front of us. Lots of good bands but one that stuck out for me was the doom band Mist. A new band from Slovenia that really should be watched for. Had a blast hanging out with the guys from Desolation Angels and the band Forsaken really killed it during their set. Another great festival and a lot of fun. Even got to be on a local TV show for a bit of an interview. Then it was back on a plane for Milan, Italy and a drive to Prato, Italy just outside of Florence. It was at the Exenzia Club that we headlined another show with some really great bands. I did not manage to see the first band but I did catch Axe Vyper and Etrusgrave and both of these bands really melted my face. Great guitar playing and vocals with both bands. Really epic sounding stuff. Another really ecstatic audience and another fabulous time for Manilla Road.
That ended our European portion of our 2014 tour and it was back to the USA to hang out at home for about two and a half weeks and then it was on the road again but this time Neudi was the only one flying. The rest of us drove from Wichita to Detroit and met Neudi at the airport. Then we started our American finish up leg of the tour. The first show was in Detroit at the Corktown Tavern. Then to Chicago at Reggie's where we opened up for Raven. Onto Milwaukee at The Metal Grill, Indianapolis at The 5th Quarter, Baltimore in a suburb called Essex and then 2 nights in a row at The Saint Vitus bar in Brooklyn, New York. All these shows were fun and had great audiences that really showed us that America still knows how to rock. We got to share the stage with many really great bands and I must say thanks to all the bands and crews at all the shows that we did around the globe who helped us with equipment and sound and stage. The shows were incredibly successful because of all these guys and the fans that showed up and flew the sign of the horns. We met so many really cool people and the promoters were all great to deal with. It has been a really great two years supporting the Mysterium album around the world live. Thanks to all of you that support us and keep the fires burning so bright that we can navigate by them.
Normally this might be the end to the report but there is more to the story. While we were in Germany this last tour leg I met with the executives of Golden Core / ZYX Music. They made me an offer that I could not refuse and so we have signed a worldwide deal with Golden Core / ZYX now. Our new album "The Blessed Curse" will be a double album and it's release date is going to be February 13th. 2015. By the way that is on a Friday so the album will be out on Friday the 13th. I just did an interview with Rock Hard magazine out of Germany where I went into a little more detail about the new album so you might want to check that out when it becomes available. Well while I was at ZYX Music my agent presented my acoustic solo project Obsidian Dreams to the label and they came back with another great offer that I could not turn down. So sometime in 2015 this acoustic project will be released as well.
Now that I am settled back in at home and have the studio up and running again I am working on songs for the next Hellwell album which I hope to have finished this coming year as well. So It's been a busy but lucrative year or two for Mysterium and Manilla Road live. Thanks to all of you for helping us live our metal dreams. We can never show enough appreciation for the undying faith you show us. Blessed Be to all.
Up The Hammers & Down The Nails
Shark