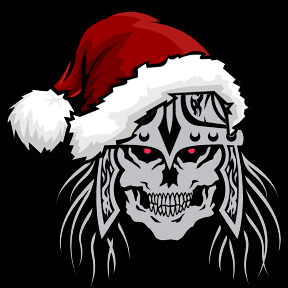 Hail to all and a happy Yule season to everyone. My boys tell me I'm overdue for a Shark report and since it is the last of our 40th anniversary year I guess I better get with it. So here we go.
We started the year with a show in January with Randy Foxe drumming for us in Wichita, This was also the first show of our new bassist Phil Ross. It was during an ice storm of course ha ha. We then did the longest tour in Europe that we had ever done before. Neudi was with us for this and some great European festivals. Then we did the Psycho Vegas festival with Neudi and had a blast at that show. It was especially cool for me because we got to see King Diamond perform and that is something I had not witnessed until then. Really cool. And we finished off our touring with a USA tour that started in our hometown with Neudi playing drums. This time no ice storm. We traveled by land and drove over 13,000 miles across the United States and did the longest US tour we had ever undertaken. We also did the Frost and Fire festival in California on this trip and then we finished off the tour with a great show at the Days of Darkness festival in Baltimore. It was a fantastic year for Manilla Road on the road and we all wish to thank every one of you that helped make these events and tours awesome and memorable. Hammers Up to all of you my friends.
It was also a very busy year when it comes to releases from Midgard Sound Labs. That is the name we gave our recording studio. Now mind you these albums were not all recorded in 2017 but that is when we finished the projects to the point of being able to be released. There is a lot of work from many angles that goes into putting an album out and none of it comes quickly. First you have to write and record all the music along with lyrics and vocals. You have the art concept idea and the art itself that has to be done. There is the business of negotiating the deal with whatever labels you are dealing with. There is the graphic design and layout of the release for not only CD but LP as well and now days sometimes cassette tape. You have the mixing process and then the mastering process for the recording itself. And even the labels have much to do before the release. Arranging promotion and advertising for the release. Having the pressing done along with their own work that they do on the layout design of the packaging. There is still more but I think I have said enough to give you the idea that these albums don't just pop out of our magik hat when we snap our fingers. Lots of time and work go into these projects by many people and many of them are not even in the band. Even though it may appear to some that I did 3 albums in one year it actually was the culmination of a few years of work that finally came to a finish in the same year. Sort of planned it this way for the 40th anniversary of Manilla Road. Anyway back to the releases ha ha. Midgard Sound Labs managed to finish and release 3 albums in 2017. First was the second Hellwell release Behind the Demon's Eyes on High Roller Records in physical form and on Hellwell Press in the digital release world. Then we launched the newest and 18th studio release of Manilla Road with To Kill A King on GoldenCore Records from ZYX Music. Last but not least is the third release of the year with Rick Fisher and I putting together a new ensemble called Riddlemaster. This project is called Bring The Magik Down and it has just been released on Metalopolis Records. I believe that is the most albums I have been on that were released in a single year. All three of these releases seemed to get mostly great response and reviews. There are always some that scoff at our work but we know that you can't please everyone all the time. Hellwell is for sure the heaviest and darkest of the releases with a bit of an emphasis on progressive doom and evil riffs. With Randy drumming it sometimes reminds me of Manilla Road during our Out Of The Abyss days. The Manilla Road album is more of a traditional Manilla Road release that is not maybe as adventurous as The Blessed Curse was (our last album). What I mean by this is that The Blessed Curse was a huge concept and To Kill A King is more a collection of songs. To me it's more of a straight ahead album with some epic ballads and songs more based in a traditional metal style. After releasing such a big epic endeavor such as The Blessed Curse I was of a mind to do something a bit more on this type of direction. You all know me! I like to mix it up a bit from album to album. I love doing concept albums but at the same time it's nice to change the pace a bit and not have to stay focused on only one story line. The Riddlemaster album is even more traditional in the sense that it is filled with standard type rock n roll structured songs for the most part. The title cut has moments of modern approach and the song Ghosts Of The Plains sounds a bit like it could have been on my Obsidian Dreams solo project. Lair Of The White Witch is very much like the psychedelic heavy rock style the band came from originally. Most everything else on the album is very much rooted in hard rock and not metal. It is maybe a little too early to tell how the Riddlemaster will be received but so far most of the reviews and feedback that we have is very positive. So it is highly likely that there will be another Riddlemaster album in the future. Most likely another Hellwell also eventually and for sure there will be another Manilla Road album because that is what I am working on right now.
That sort of brings us up to the present. Work is in progress on creating and recording the first tracks of songs for the next Manilla Road album. I'm not going to speak much on this yet because it is still in its infancy stage. But I will tell you that it will have some songs that are connected by an epic adventure fantasy concept. Most likely not the whole album though. Our management is already working out tour stuff for us for 2018 and we will also be playing at a few festivals in Europe again. So 2018 should be another year to look forward to for Manilla Road.
I believe we now have To Kill A King shirts available in our merchandise online store that you can find by clicking on the merchandise tab on this page. If you are not reading this from our website then you can always find our merchandise at manillaroad.net. We will eventually have the new Riddlemaster album in stock also. If you like Manilla Road merchandise then it is a good idea to check our online store out every once in awhile to see what new stuff has popped up. We are not a wealthy band but we stock as many different types of products that we can. We always appreciate your input on what kind of merchandise you would like to see us carry and we do our best to provide what we can. Thanks to all of you who shop with us at manillaroad.net. This is the part of our business that helps keep our studio up to date and running. We have even, just in the last few months, updated and renovated our studio once again. So we are all expecting to be able to deliver even better sounding music to your ears in the future. This is a direct result of you all shopping with us at manillaroad.net. Thanks.
All of us at Manilla Road, Hellwell and Riddlemaster would like to extend our best wishes and holiday greetings to all of you and a big thank you for all that support Manilla Road and the other projects that we produce. After 40 years of pursuing a musical career I would have to say that it has all been worth it thanks to you. Not always a walk in the park but always an adventure. And it's not over yet. May the Muse shine on us all as we traverse into another new year and prove once again to the world that Metal is not dead.
Blessed Be
Mark The Shark Shelton