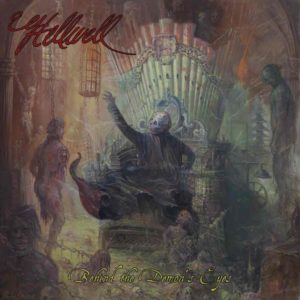 Hail all ye brethren of the hammer. It's almost tour time again and I'm starting to get excited. 2017 is the 40th anniversary of Manilla Road as a band. It is also the 30th anniversary of the release of our album Mystification. So I feel it is a really special year and tour for Manilla Road this time and not only that but there are many releases that will happen in this 40th year of Manilla Road. First of all the new Hellwell album "Behind the Demon's Eyes" is just now coming out on High Roller Records. Also later this year you will see the release of a special project I did with Rick Fisher called Riddlemaster. I have just finished recording and mixing an electronic synthesizer project that will be released sometime in the near future and last but not least is the release of a new Manilla Road album very soon called "To Kill A King". So there is a lot going on just on the recorded music side of things for this year.
Then we have all the touring that is also coming up for Manilla Road. Our European dates are all secured now and you can see all the information on our live dates in Europe on the tour tab on this site. We also will be touring in the United States later this year. Some of those dates are already on the tour information but our management will be now concentrating on securing bookings for our US tour now that the European tour is all set. So I think it will be a glorious year for Manilla Road live also and I am so looking forward to playing live again. This will be the first tour that our new bassist Phil Ross will be doing with us so that is exciting also. Can't wait for you all to see what he is made of.
Of course we will have merchandise with us on this tour and you should also know that we have some new merchandise on this website also so go to the merchandise section and see what's up.
I wish to thank all of you Manilla Maniacs for your undying support and hope to see you all on the road very soon. Up The Hammers & Down The Nails
Cheers
Shark