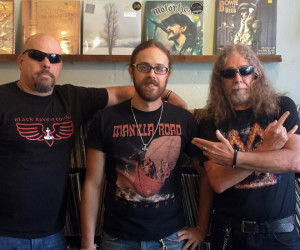 Hail to all ye Brethren of the Hammer,
I have a special announcement to make concerning the lineup of Manilla Road. We all know that change is inevitable as time goes on and after almost six years of playing bass for Manilla Road Joshua Castillo is hanging up his Manilla Road spurs to allow more time with his children and family. This honorable decision is totally supported by all the members and crew of Manilla Road. Josh has been a great brother in arms for the last several years and we raise the horns on high in his honor. All of us in the Manilla Road camp wish Josh and his family much happiness and we hope that any musical endeavors Josh may have in the future are successful. Up The Hammers brother.
But have no fear fellow Roadsters for this is not our first rodeo (as we say here in Kansas). Sometimes change can be the next step to something greater. I am always the optimist. This is but the changing of the guard. And with that being said I am honored to introduce to you the new Bassist for Manilla Road Phil Ross. Phil is part owner of Spektrum Muzik in Delano/Wichita, Kansas and has been educated on bass since his schooling days. I have been friends with him for about eight years and he is a remarkably talented bassist and musician but you won't have to take my word on that for long because he is currently slamming out the bass parts to our new album in the studio. So you will have a good earful of Phil when the new Manilla Road album comes out in early 2017. You will also be seeing him live with Manilla Road once we start touring again in February of next year as well. So please welcome Phil Ross to the Manilla Road camp.
We are ever indebted to all of you for your undying support of Manilla Road and your love of the music. This is what keeps Manilla Road on the road. Thank you all so very much for your faith in the music. Up The Hammers & Down The Nails
Mark The Shark Shelton
Manilla Road