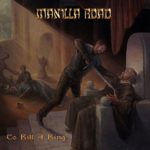 Manilla Road is done with the European leg of our 40th anniversary tour now and all of us except Neudi are back stateside. It was a fantastic trip through Europe this time and the fans and response was so incredible that I don't really have the proper words to convey our appreciation to everyone. It was the longest tour we have done yet in Europe playing in eleven different countries. This tour proved to me that metal is still alive and well in Europe and it has been an honor for us to play at every show we did on this trip. All of you who helped us celebrate our 40th on this trek were utterly amazing and we will never forget the respect and kindness you paid to us. Up The Hammers to each and every one of you.
I have other news for thee as well. To Kill A King, our new Manilla Road album has just come out and we have CDs available in the merchandise store on this site. Just go to the Merchandise tab to check it out. We don't have vinyl LPs just yet but they should be coming in August I think. I have been told that they sold out in pre-order in Europe but it's sort of like potato chips…they always make more. The album has been getting some really great reviews and I myself am extremely proud of this release. The production is top notch and the performances are excellent if I don't say so myself. It's full of epic tracks and good straight forward heavy metal.
In other news we have just upgraded our recording system at Midgard Sound Labs. And by upgraded I mean to say that we have a whole new system ha ha. It's light years ahead of the dinosaur system that we have been using for the last ten years or more. Anyway the revamp of the studio is finished now and we are up and running at full throttle. The new gear sounds glorious and I think that the next projects to come will be another great step forward in the betterment of our productions here at Midgard Sound Labs.
Well that should catch you up on what has already happened but there is much to come yet the rest of this year. We are playing at the Psycho Vegas festival in Las Vegas Nevada in August and then in late September and pretty much all of October Manilla Road will be on tour in the United States. So just keep watching our tour page on this site for all the information about the upcoming 40th anniversary US Tour.
Thank you all for your undying support and I hope to see you on the road yet this year.
Down The Nails
Mark the Shark Shelton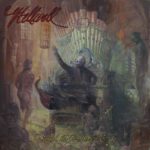 Hail all ye brethren of the hammer. It's almost tour time again and I'm starting to get excited. 2017 is the 40th anniversary of Manilla Road as a band. It is also the 30th anniversary of the release of our album Mystification. So I feel it is a really special year and tour for Manilla Road this time and not only that but there are many releases that will happen in this 40th year of Manilla Road. First of all the new Hellwell album "Behind the Demon's Eyes" is just now coming out on High Roller Records. Also later this year you will see the release of a special project I did with Rick Fisher called Riddlemaster. I have just finished recording and mixing an electronic synthesizer project that will be released sometime in the near future and last but not least is the release of a new Manilla Road album very soon called "To Kill A King". So there is a lot going on just on the recorded music side of things for this year.
Then we have all the touring that is also coming up for Manilla Road. Our European dates are all secured now and you can see all the information on our live dates in Europe on the tour tab on this site. We also will be touring in the United States later this year. Some of those dates are already on the tour information but our management will be now concentrating on securing bookings for our US tour now that the European tour is all set. So I think it will be a glorious year for Manilla Road live also and I am so looking forward to playing live again. This will be the first tour that our new bassist Phil Ross will be doing with us so that is exciting also. Can't wait for you all to see what he is made of.
Of course we will have merchandise with us on this tour and you should also know that we have some new merchandise on this website also so go to the merchandise section and see what's up.
I wish to thank all of you Manilla Maniacs for your undying support and hope to see you all on the road very soon. Up The Hammers & Down The Nails
Cheers
Shark
All hail to ye brethren of the hammer,
Shark here with another update on happenings with regards to Manilla Road and Hellwell. First of all I would like to announce that Manilla Road is going to be playing a show in our home town of Wichita, Kansas on January 13th 2017. That just happens to be Friday the 13th ha ha. Randy Thrasher Foxe will be the drummer for this show and it will also be the first live appearance of Phil Ross playing bass with Manilla Road. Seeing that 2017 is the 30th anniversary of the release of Mystification we will be playing a lot of songs from that album plus other classics that Randy recorded with us from the past.
Our manager is currently booking and finalizing our shows for the 2017 Manilla Road tour and it looks like it will be a very busy and killer year for Manilla Road. I am eager to get back out on the road to play for and see all our friends across the globe. If you wish to contact our management for possible bookings you can email us at booking@manillaroad.net.
The new Manilla Road album is finished as far as the recording process is concerned. We are finalizing our mixes of the songs now so the project should be finished very soon. Looking for a release of the album in 2017.
The new Hellwell album is completely finished and in the hands of High Roller Records now. It should be coming out in early to mid 2017 with the front cover art done by Paolo Girardi. (also did The Blessed Curse cover). He really outdid himself again and has painted another masterpiece. I mentioned this in an earlier post but good news is always worth repeating: Randy Thrasher Foxe is now the drummer for Hellwell and he did a killer job on this project so you won't want to miss this one.
We have more new merchandise on this site that you might want to check out. New patches and pins that are very cool if I don't say so myself. So check out the merchandise part of our site here at manillaroad.net and find that special Manilla Road gift that will light up anyone's Christmas.
Don't forget to watch our tour dates on this site for upcoming Manilla Road shows in your area. We will be adding the shows as we can announce them so just keep an eye on the tour dates part of this site and you will be able to keep yourself informed as to the live happenings of Manilla Road for the year to come.
Last but not least I want to wish all of you a very Metal Christmas and a Heavy New Year. Thanks so much for all the support and love we get from all of you. Up The Hammers & Down The Nails.
Shark