All hail to ye brethren of the hammer,
Shark here with another update on happenings with regards to Manilla Road and Hellwell. First of all I would like to announce that Manilla Road is going to be playing a show in our home town of Wichita, Kansas on January 13th 2017. That just happens to be Friday the 13th ha ha. Randy Thrasher Foxe will be the drummer for this show and it will also be the first live appearance of Phil Ross playing bass with Manilla Road. Seeing that 2017 is the 30th anniversary of the release of Mystification we will be playing a lot of songs from that album plus other classics that Randy recorded with us from the past.
Our manager is currently booking and finalizing our shows for the 2017 Manilla Road tour and it looks like it will be a very busy and killer year for Manilla Road. I am eager to get back out on the road to play for and see all our friends across the globe. If you wish to contact our management for possible bookings you can email us at booking@manillaroad.net.
The new Manilla Road album is finished as far as the recording process is concerned. We are finalizing our mixes of the songs now so the project should be finished very soon. Looking for a release of the album in 2017.
The new Hellwell album is completely finished and in the hands of High Roller Records now. It should be coming out in early to mid 2017 with the front cover art done by Paolo Girardi. (also did The Blessed Curse cover). He really outdid himself again and has painted another masterpiece. I mentioned this in an earlier post but good news is always worth repeating: Randy Thrasher Foxe is now the drummer for Hellwell and he did a killer job on this project so you won't want to miss this one.
We have more new merchandise on this site that you might want to check out. New patches and pins that are very cool if I don't say so myself. So check out the merchandise part of our site here at manillaroad.net and find that special Manilla Road gift that will light up anyone's Christmas.
Don't forget to watch our tour dates on this site for upcoming Manilla Road shows in your area. We will be adding the shows as we can announce them so just keep an eye on the tour dates part of this site and you will be able to keep yourself informed as to the live happenings of Manilla Road for the year to come.
Last but not least I want to wish all of you a very Metal Christmas and a Heavy New Year. Thanks so much for all the support and love we get from all of you. Up The Hammers & Down The Nails.
Shark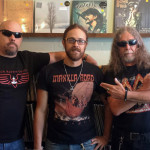 Hail to all ye Brethren of the Hammer,
I have a special announcement to make concerning the lineup of Manilla Road. We all know that change is inevitable as time goes on and after almost six years of playing bass for Manilla Road Joshua Castillo is hanging up his Manilla Road spurs to allow more time with his children and family. This honorable decision is totally supported by all the members and crew of Manilla Road. Josh has been a great brother in arms for the last several years and we raise the horns on high in his honor. All of us in the Manilla Road camp wish Josh and his family much happiness and we hope that any musical endeavors Josh may have in the future are successful. Up The Hammers brother.
But have no fear fellow Roadsters for this is not our first rodeo (as we say here in Kansas). Sometimes change can be the next step to something greater. I am always the optimist. This is but the changing of the guard. And with that being said I am honored to introduce to you the new Bassist for Manilla Road Phil Ross. Phil is part owner of Spektrum Muzik in Delano/Wichita, Kansas and has been educated on bass since his schooling days. I have been friends with him for about eight years and he is a remarkably talented bassist and musician but you won't have to take my word on that for long because he is currently slamming out the bass parts to our new album in the studio. So you will have a good earful of Phil when the new Manilla Road album comes out in early 2017. You will also be seeing him live with Manilla Road once we start touring again in February of next year as well. So please welcome Phil Ross to the Manilla Road camp.
We are ever indebted to all of you for your undying support of Manilla Road and your love of the music. This is what keeps Manilla Road on the road. Thank you all so very much for your faith in the music. Up The Hammers & Down The Nails
Mark The Shark Shelton
Manilla Road
Hail to all ye Brethren of the Hammer,
Shark here with the tour end report for our Blessed Curse 2016 Tour. We did four different tour legs this year. The first started in Ft. Lauderdale, Florida on the 70,000 Tons of Metal Cruise Ship to Jamaica and back. Great times were had by one and all. Then it was three different Tour legs in Europe. I have reported on some of the earlier parts of the tour already so this will mainly be about the last leg that we just finished. But first I would like to mention the great times we had at the Metal Magic Festival in Denmark, our show at the Nosturi Club in Helsinki, Finland and the Bang Your Head Festival in Germany. All of these shows were fantastic for us. The audiences were so awesome and it seemed as though the metal gods were on our side at all times. For example at the Metal Magic Festival it was raining all day and you know that type of weather makes open air events much more challenging. But when Manilla Road took the stage right before Denner & Sherman the clouds removed themselves and the rain stopped. From that point on it was true Metal Magic. The crowd was really great at the Nosturi Venue in Helsinki. The sound was perfect there and we had some great opening bands as well Satan's Fall and Angel Sword. And of course the Bang Your Head Festival was really great. Not only did we get to play on the main stage again with our giant Smiling Jack backdrop provided by our friends in Cypress but we also got to meet so many of our idols from the past and present. Kerry King, Udo, Mick Box and the list goes on. It was a great fest, run expertly with a great lineup of bands. My personal favorite acts that I saw at the Bang Your Head were Night Demon, Uriah Heep and Udo. By the way this time around Udo only did old Accept songs in the set and I must say he belted it all out just as well as he did in the day. Up The Hammers Udo!
Now we come to this fourth and final tour leg of the Blessed Curse Tour 2016. We started this one off with a spot at the Fall of Summer Festival in France which was really cool because of the setting. Two good size open air stages with one of them placed directly on the beach of a nice lake. Some great bands on this festival also that I really enjoyed seeing again. Exciter and Grim Reaper were both extremely fun to see and there were many other great bands as well. The audience was really receptive to Manilla Road and I just love it when we play somewhere new and find the audience is full of people that actually know Manilla Road music. It's amazing. Then it was on to Spain to start a land based tour of the great country of many castles. We started in Madrid and got to hook up with some of our old Pounding Metal Union friends. The show in Madrid was nuts with a packed house and a great enthusiastic crowd. Then we traveled on and did fun shows in Jaen, Murcia, Barcelona and Zaragoza. Between the last two shows in Spain we slipped back to France for the Pyrenean Warriors Open Air festival in France. This was another great open air event that we were so proud to Headline. Great sound and lights and the Stage Crew was great and for a new (2nd edition) festival it was very well run and the lineup was fantastic with bands like ADX and Electric Shock. My highlight faves were Metal Inquisitor and Ostrogoth. All of the bands were great at this fest. After our last show in Spain we hopped a flight to Vienna, Austria and did a really blasting show for a packed house. This was the first time Manilla Road had played in Austria and what an honor to do a show in the city considered the capital of Classical Music and Opera. It was a great night. Then back onto airplanes to Germany where we hung out at Neudi's for a bit and then stormed our way to the Storm Crusher Festival in Bavaria where we headlined one of two nights with another great lineup of bands for both days. Asphyx, Masters of Disguise, Atlantean Kodex, Division Speed, Diamond Head, Exumer and Iron Angel plus many more great bands. It was another really cool festival with a farmer or in German bower type of setting. Another really well run event with great crew and promoters.
So that pretty much raps up the 2016 Blessed Curse Tour for us. We are currently working on finishing the next Manilla Road album. We have been a little slow at getting this one finished due to all the touring that we have been doing this year but now that we are off the road so to speak I think the process will be expedited. But there are some other things to watch for in the near future of 2017. First of all 2017 will be the 40th anniversary of the inception of Manilla Road. There will be many events this coming year that is for sure. The new Hellwell Album is finished and we are just waiting on the art to be finished now. This should be out on High Roller Records around February of 2017. And I might add that Mr. Randy Thrasher Foxe is now the drummer for Hellwell and he is of course on this new album. Also I have finished an album project with Mr. Rick Fisher that we have negotiated a deal for as well. The contracts are not signed just yet but as soon as they are we will make a press release of all the information about the project, label and release dates. So it should be a very interesting year of releases for Manilla Road and it's affiliates. Breaker Films is currently working on a documentary movie about Manilla Road that is currently in the filming process. We will be putting together a 40th Anniversary show in Wichita, Kansas of course and those details will be released as soon as the particulars are ironed out. We are also going to be doing a special European show at the Keep It True Festival XX. Not only is it the 40th for Manilla Road but it is also the 30th Anniversary of the Mystification album release. And this is also the 20th KIT Festival so we will be bringing Randy Thrasher Foxe with us to that festival to perform songs from Mystification and also a few other special Road songs. Then Neudi will finish out the show for us with a bunch of the classics from Invasion, Metal, Open The Gates, The Deluge and of course Crystal Logic. There are other shows that are being worked on for touring next year as well so don't worry we will most likely be coming somewhere near you. Just keep watching on manillaroad.net for tour dates.
That is all for this moment but I do wish to thank you one and all for your undying support of Manilla Road. It was a fantastic time for us on tour with everyone always treating us with respect and kindness. Your support and friendship and love of the music is what keeps us going on with Manilla Road.
Stay tuned for there are some other major announcements yet to come very soon.
Up The Hammers & Down The Nails
Mark The Shark Shelton
Manilla Road / Hellwell